Request a Call
It's been a busy and somewhat challenging year. As a business, we made progress in many areas such as getting back to in-person events and attending IFAT along with the Ecomondo expo in Italy and the EquipHotel expo in Paris.
Feature Videos
We had a busy year developing feature and demonstration videos of our vertical baler range which are translated into multiple languages on the LSM YouTube Channel
English | French | Spanish | Italian | Hungarian
In 2023, we will be updating the channel with videos throughout the year so please subscribe.
News, blog and distributor case studies
In 2022, we worked with distributors in over 9 countries to highlight innovation and the benefits of using LSM balers to help reduce vehicle movement and carbon footprint, and to manage the world's waste better in the form of case studies. Distributor case studies can be found at this link
Translated content can be found in German, Spanish and French
Would you like us to develop a case study for your market? Please get in touch with us.
Product Updates
The Stainless-Steel Range was re-introduced in late 2022. Models include the V4SS standard with a drop-down front door, the V5SS, V8SS and the V16SS.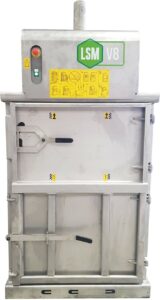 Interested in finding out more about the Stainless steel range? Please contact us for pricing, availability and more information.
Our new H50S model heavy-duty closed-end horizontal baler will be available in 2023. We posted the baler in operation recently on our LinkedIn page – Link to the video can be found here
Production
Here at LSM, when it comes to manufacturing, continuous improvement and innovation at our Irish production facility is at the heart of our commitment to designing and producing high-quality balers. 2022 was no different – our new factory robot was introduced and has started to automatically weld baler bodies and packing plates. A video of the robot at work on our V50 mill-size baler in operation can be found on this link
During the year we installed a new automated cleaning line which will allow us to increase throughput, reduce manual labour content, and improve the quality of surfacing for painting.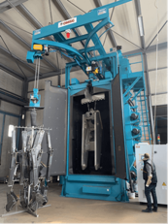 This means we are able to enhance production quality while also reducing lead times. Having an automated cleaning line will also allow us to reduce our water usage at the factory, supporting our mission of a cleaner environment.
Follow Us On LinkedIn in 2023
We regularly update our LinkedIn page with product updates or customisations we've put in place for customers along with distributor case studies. Following our page can inspire you with new and interesting ways customers in other countries are using balers that are ordered through their local dealers. be sure to follow us in 2023 by following this link.