Request a Call
H50 Horizontal baler installation transforms waste management strategy of a large food supplier.
Customer business type: Large European food supplier
Location: Paris, France
Supplied by: Tri-Logic, LSM's French Distributor.
Challenge
This end user, a leading European food supplier, needed a new waste baler to get through large quantities of waste, including cardboard and plastic. The existing baler in use was old, and the end user required a large baler which could process high volumes consistently in their large logistic centre on the outskirts of Paris, France.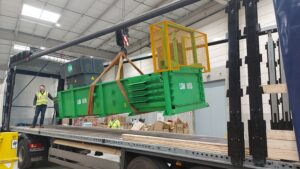 Solution
LSM French distributor Tri-Logic first visited the client's logistics centre to get a sense of the amount of volume the supplier was producing and to gauge the amount of floor space they had for the baler; we also spoke to the staff to understand how frequently the machine was used and if they were comfortable using the existing machine.
After the site visit, it was evident that the existing baler in place was unreliable, hard to service and kept breaking down which was leading to untidy and hazardous conditions around the site floor
After a comprehensive audit, the H50 was recommended as the ideal baler to meet the waste needs of the end user.
The H50 is ideal for busy supermarkets with a baler size of 750mm H x 1100mm W x 1000mm D, bale weight of 330 – 550 kg and a cycle time of 40 – 50 seconds, this horizontal baler is perfect for getting through the levels of waste, and it does not stop. Another key feature of this baler is the heavy-duty V-Shaped shear bar for cutting different materials along with a semiautomatic guillotine-style discharge which allows for the full ejection of a baler so waste can be moved easily off-site.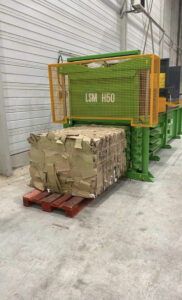 Outcome
Once everything was agreed upon, Tri-Logic arranged the machine delivery, downloading and installation for the end user. Staff were trained on how to operate and use the machine. Feedback since installation has been positive from staff and the end user sees the benefits already including a safer workspace for staff with less hazardous material on site. The baler has also allowed the end user to get through volumes of material quicker and safer and has changed the overall waste management process in this food suppliers logistics centre.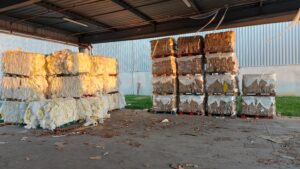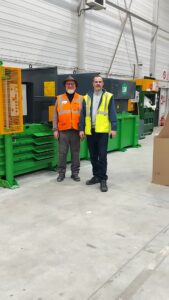 Are you interested in hearing more about the benefits of a streamlined waste management programme? Tell us more about your current waste management requirements and we can undertake an audit tailored to your needs. Get in touch today