Request a Call
SUSTAINABILITY IN THE BUILDING SECTOR – HOW LSM HELPED REDUCE RECYCLING OPERATING AND WASTE COSTS
INSTALLING WASTE BALERS FOR A BUILDING MATERIALS PROVIDER
BACKGROUND
Freefoam Building Products is the leading manufacturer of a wide range of innovative uPVC fascia and soffit products, also producing a range of other materials for the building industry in Ireland, the UK, and Mainland Europe. The Freefoam team, in conjunction with Glenveagh Properties and other companies, pulled together the LDPE and cardboard packaging from relevant products to be baled or resold under a funded project from CirculÉire over an 18-month period. This project aimed to reduce waste products and increase sustainability in the building industry, ending in December 2022. The companies involved, including Freefoam, are continuing recycling efforts as a result of the project.
CHALLENGE
Within the building industry, many materials are single-use or cannot be mixed with other materials. This in turn leads to higher operating and waste costs to ensure the business continues as normal.
Under the CirculÉire project, a renewed emphasis was placed on recycling or reusing as many materials as possible. Freefoam, therefore, needed to seriously consider its sustainability strategy to get the most out of the materials they had available – this wouldn't be easy, though, as certain materials couldn't be mixed, some could be reused on-site or shipped elsewhere, and some were under strict regulations for wear and tear.
Products to be considered were:
Propylene IBC bags for various raw materials (these materials cannot be mixed)
Waste cardboard and LDPE products
LPDE pallet hoods used to protect the IBC bags from the elements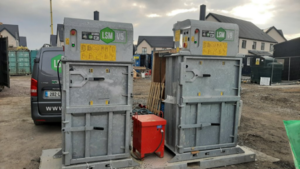 SOLUTION
As part of the CirculÉire project, the building materials used by Freefoam would go on to get a new lease of life, whether on site or elsewhere. To help Freefoam achieve its sustainability goals, LSM Ireland:
Installed 3 balers on-site (a V5 galvanised model, a V8 galvanised model, and a V8 standard model). These balers serve one material type each, and help to reduce volumes of bags being shipped back to the Freefoam mixing plant in the UK where they will be reused up to a maximum of 6 times due to health and safety regulations.
Installed a V16 standard model, which serves to bale those bags which have been damaged or reached their maximum number of uses. These bales are then sent to a third-party company in Clare to be remanufactured into long-life fence posts.
These balers also allow the Freefoam team to bale waste cardboard and LDPE, which are collected by a third-party for recycling. LDPE pallet hoods have also been given a new lease of life with these balers from LSM – the hoods are collected, baled and reused until they're no longer of good quality for use.
OUTCOME
Having discussed the Freefoam team's needs for baling solutions, LSM supplied four balers of varying sizes and uses to ensure that all requirements were met to the best possible standards.
Supplying two galvanised models allowed the Freefoam team to place the machines where they can be best used outside, reducing the need for operators to move between activity areas and baling areas on site.
Are you ready to reap the benefits of a personalised waste management program? Our expert team are happy to discuss the best solutions for your waste needs. Contact us today to get started.