Request a Call
As we head into the winter months in Ireland – here is an update latest news at LSM
Product Update – Stainless Steel Range
We recently have reintroduced some stainless machines to our range of balers.
Here is an image of the V8 Baler from the range: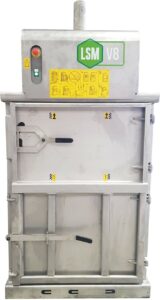 Other models from our stainless steel range include the V4SS standard with a drop-down front door, the V5SS, V8SS and the V16SS.
These machines have many benefits, including:
Manufactured with Grand 304 stainless and are shot blasted to a finish for resale.
Machines come with Stainless Steel Cylinders but can be supplied as painted at a reduced price.
Control Panel is manufactured from Stainless Steel and is IP56-rated.
Machines can be supplied with food-grade oil as an option.
Interested in finding out more about the Stainless steel range? Please contact us for pricing, availability and more information.
Recent Exhibitions 
We have been busy supporting our distributors this month across Europe, it's great to see live exhibitions back in full swing.  Noel, LSM's Operations Director recently attended the EquipHotel expo with our French distributor Tri-Logic in Paris, the expo is the world's leading event for the hotel and food service industry.
I attended Ecomondo, the green technology expo in Rimini, Italy with Lorella and Guilio from Ciclia, our Italian distributor. Ecomondo is an international event that brings together all sectors of the circular economy on a single platform: from the recovery of materials and energy to sustainable development. Both shows were well attended by local and international customers.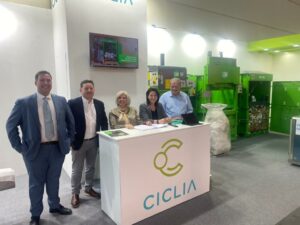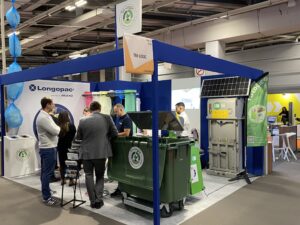 Distributor case studies
This month, we have been busy working with LSM distributors worldwide to create country-specific case studies. These case studies showcase how, where, and why LSM balers are being used around the world.
Thanks to LSM Hungary, LSM UK, AD STIL Romania, Rokiwaste in South Africa, Ciclia in Italy, General Trade in Chile and our colleagues in Argentina for working with us already.
Would you like us to develop a case study for your market? Please get in touch with us.
General Trade – Chile case study 
This recent case study focused on a large beverage manufacturer in Chile who worked alongside LSM Chile's distributor, General Trade to install two V8 waste balers for its new business premises. The business set an ambitious objective to become waste neutral within one year with the goal of zero waste on its new premises, with the installation of the LSM V8 balers, the business is on track to meet that objective.
Read more: Waste Baler installation improves beverage manufacturer sustainability
Blog Posts – LSM Distributors
We regularly publish content on this site which may be of interest to you and your customers in various languages. A recent blog post we looked at showcased how businesses could generate revenue from recycling their waste correctly.
German: Könnte Ihr Unternehmen Einnahmen aus Abfall generieren? 
Spanish:¿PODRÍA SU EMPRESA VENDER LOS RESIDUOS QUE GENERA?
French: Votre entreprise peut-elle générer des revenus à partir de ses déchets ? 
Follow Us On LinkedIn
We regularly update our LinkedIn page with product updates or customisations we've put in place for customers. Following our page can inspire you with new and interesting ways customers in other countries are using balers that are ordered through their local dealers. Follow us here