Request a Call
LSM waste distributor Fincumet Container Oy greatly increase its customer base
Distributor: Fincumet Container Oy
Location: Finland
Supplied By: LSM
BACKGROUND
Fincumet Container Oy is Finland's leading supplier of goods in the waste management industry. They offer waste compactor balers and sought a new waste distributor to partner with.
CHALLENGE 
Fincumet Container was facing challenges with their existing baler supplier, with low margins and limited rental opportunities impacting revenue. These commercial problems were alongside a number of other supplier issues they needed to overcome. Challenges included:
Limited rental opportunities
Poor design caused negative customer feedback
A limited range of options for customers
Customer questions unanswered
Lack of sales and marketing support
High transport costs
These combined factors pointed to a change in baler supplier as the simplest solution for restoring Fincumet Container's competitive edge.
PARTNERSHIP
Fincumet Container decided to provide customers with a new product line of waste compactors and balers. Fincumet Container built the waste compactors in their own factor, but they wanted a partner with a strong, reliable product line for waste balers. Product manager, Mikko Laisi, consulted with LSM to learn how their expertise could support Fincumet Container and determine the potential sales and revenue they would generate through working together. Fincumet Container visited LSM's facility to test the machines and meet with engineers, and a distributor agreement was formed. In 2022 Fincumet Container selected LSM as their new supplier of baler equipment.
Benefits for Fincumet Container in partnering with LSM included:
Competitive Pricing
Rental opportunities
Simple to install and operate
Straightforward maintenance
Strong Reputation
Comprehensive technical support
Sales and Marketing Support
Manufactured at LSM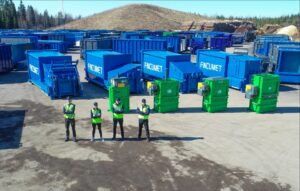 OUTCOME
After just two years of the partnership with LSM, Fincumet Container has resolved its challenges and also witnessed a significant increase in profitability and annual revenue. Margins have grown, and baler rentals have increased by 50%. Furthermore, strong client feedback on the quality, simplicity and price point of LSM balers has led to a higher number of repeat orders.
LSM Balers are top-selling machines. We are yet to receive any negative feedback on any of the machines we have sold, it has all been positive. Our partnership with LSM is running smoothly and the machines are fantastic and work right away. We will work together for many years. – Mikko Laisi, Product Manager, Fincumet Container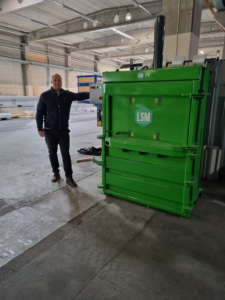 RESULT
Increased sales profits
Increased customer base and customer satisfaction
Increased rentals by 50% – creating a new recurring revenue stream.
LSM continues to crush, press and bale waste in 30 countries across the world; if you are interested in boosting your revenue and partnering with LSM, get in touch by completing the contact us form on this page. We would love to discuss your options.